ENTERPRISE-GRADE
PRODUCTIVITY APP SUITE

Drive More Business
Value From Your
PM App Stack
Looking for a way to drive down costs and risks while increasing delivery speed and output quality?
OhZone, a Sierra Digital innovation, offers remote, cloud-based, automated, real-time management of enterprise-level projects and portfolios through seamless integration of enterprise resource planning (ERP), finance, and productivity systems.
ALL-IN ONE PRODUCTIVITY SUITE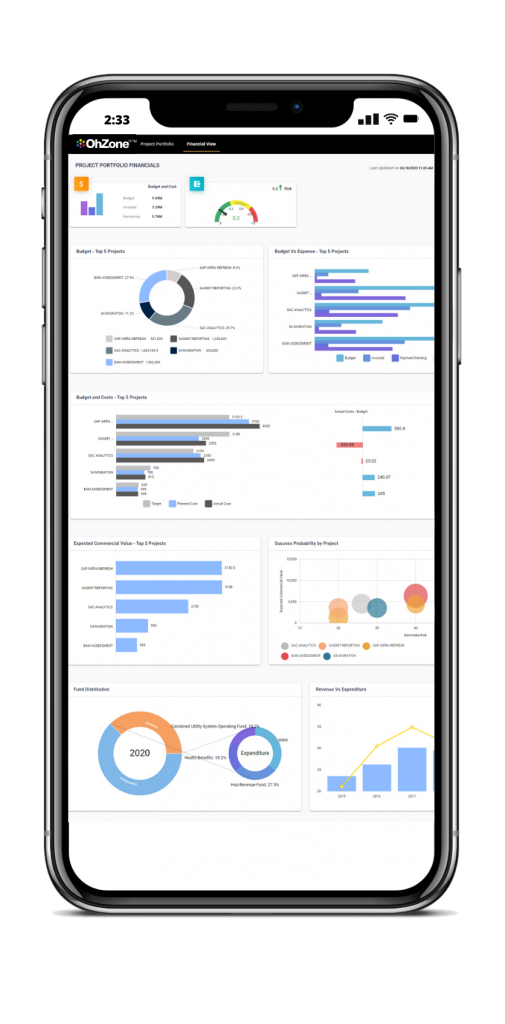 Tap to link/load productivity ecosystem & data: Getting started with OhZone is simple and personalized. Open integration allows you to tether ERP, finance system, project planning software, collaboration platform, service/support desk, email, and calendar. Upload project documents, too, to command your project universe from the palm of your hand.
Personalize controls and functionality: Access data and controls to run/manage PMO in an instant. 360-degree dashboard provides tap-and-go automation, collaboration, and role-based access. Customize existing/preferred functions, lifecycle, methodologies, reporting & analytics. Easily configures to accept SAP and Non-SAP integration.
Drive action backed by full-scale analytics: Anchored in SAP Analytics Cloud, OhZone delivers prescriptive/predictive analytics to optimize your ability to make informed decisions. Once you do, you'll seamlessly drive PMO team action and monitor progress using the app's Qualtrics-based collaboration function.
Instantly track real-time effects of actions: Monitor projects in the moment, using live X and O data, by portfolio, department, phase and timeline--using automated health checks. Know summarized issues, risks, and hot spots in real-time to minimize scope creep and costs, optimize resources, and manage change.

​

Bring your data to life with customizable widgets: OhZone features a full array of chart, table, analysis, and static content widgets. Choose the display best suited to your needs, then customize its content features. Drag-and-drop widgets freely on your dashboard to build a compelling PMO narrative, telling you all you need to know at a glance.
Ideal Solution for Enterprise Project Managers in An Array of Industries
Sierra Digital, pioneers of OhZone technology, serve the digital transformation needs of many brands you know and trust. By applying deep learning from real client successes.