OHZONE
Embrace The Experience Economy
Sierra Digital aspires to help clients understand the customer holistically--their lives, attitudes, opinions, and values--and take action on customer input in real time in order to win loyalty in a crowded digital marketplace. As a Qualtrics Network Partner, we employ a full team of CX and EX-certified professionals.
Blending X & O Data Makes Audience Magic
Cirque du Soleil is known for its mind-bending and groundbreaking in-show performances, but it's now shining a light on one-of-a-kind pre-show experiences between performers and audiences with an innovative collaboration with Qualtrics & SAP.
Qualtrics: The World's #1 Leading Experience Management Platform
Qualtrics is the world's first experience management platform, designed to allow you to gather, analyze and act on your core business data.
The best companies in the world today are driven by data. The best companies of tomorrow are driven by experience data. It's the information behind your data – the 'why' behind your sales numbers, leads, employee attrition rates and customer experience scores.
Qualtrics cloud-based software lets your teams access, analyze and share all your data wherever they are, with no hardware or maintenance required.
Extend The Power of Automation-Rich Productivity Apps To Do More
A Qualtrics partner with deep expertise in automation, integration, and acceleration, Sierra Digital is ready and able to help you install and manage the XM platform. We possess certified EX/CX teams on staff, including sanctioned strategists.
Better yet, we are uniquely positioned to help you extract maximum business value from your Qualtrics investment, thanks to our proprietary OhZone solution.
OhZone blends the advantages of X+O innovation with the advantages of the Qualtrics XM Platform to help companies gain new insights and new ground in relation to both products and people. OhZone in conjunction with Qualtrics releases new breakthroughs: saving time, advancing quality of output, automating processes, and more.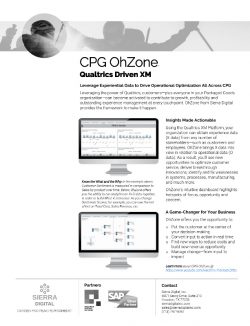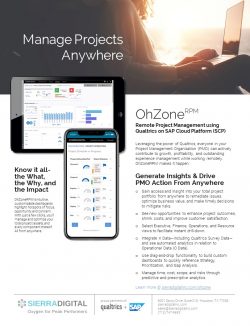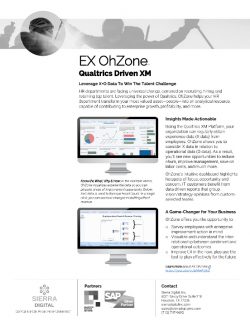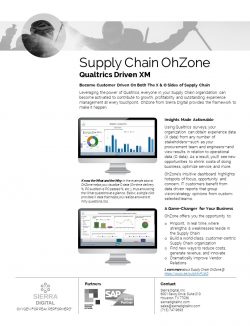 Qualtrics Returns 6X Base Investment in 3 Years & More
An October 2019 Qualtrics-commissioned study, The Total Economic Impact of Qualtrics CustomerXM, conducted by Forrester Consulting, found that a composite organization, based on Qualtrics customers using the customer experience solution, achieved the following:
633% return on investment over three years.
Benefits equaling $38.4M, with a net present value of $33.2M.
24.5M in improved customer care support and service.
$12.3M in increased customer retention and reduced cost of acquisition.
$1.7M in avoided costs of previous surveys and analytics tools.
A payback period of less than 3 months.
"Through a Qualtrics survey that we were running on our website, we were able to find out what consumers were looking for when they visited...We used this insight to shape our pay per click strategy. The results have been promising, to say the least. Versus 2013 figures, we've experienced a 65% increase in click through rate, a 38% increase in cost efficiency, and our program is exceeding click volume goals by 40%."
Brian Lardi, Global Digital Marketing Manager, Shell
Is OhZone-Enhanced Qualtrics Right for You?
Give thought to these questions and the answer will become self-evident:
Is customer and employee data a decision-driver in your organization?
Do you regularly consider survey data when making key decisions?
Does your organization regularly credit employees and customers for contributing to advancements and innovations?
Does your organization have difficulty with churn, or maintaining positive NPS scores?
Do you monitor and measure customer and employee sentiment regularly, and do you take action based on what you hear?
What program or programs are in place to direct improvement to lines of business in real time based on customer and employee feedback you receive?
Qualtrics XM Driven Solutions Resources
About Qualtrics Business purpose, locations, and clients.
XM Solution Guided Programs XM Solution Guided Programs turbocharge customer and employee experience programs with pre-configured surveys, expert-validated methods, and dashboards tailored to your business.
Merge X+O Data to Optimize The Employee Experience
Watch how a customer can use Qualtrics data along with SuccessFactors, Concur and finance data in SAP Analytics Cloud to optimize the Employee Experience.
Read More Case Studies
Back your Business Case with proven success. Qualtrics has published more than 150 Case Studies by company size, industry, and overall customer rating.
WEBINAR
Humanizing Digital Experiences
Join us as Isabelle Zdatny, XM Catalyst for The Qualtrics XM Institute, shares how to humanize digital interactions by replicating the elements of strong human conversations.
On Demand
Experience Management in Uncertain Times
Mission-critical tips for CIOs from SAP & Qualtrics.
On Demand
Sierra Digital helps Oil & Gas leader find its TrueNorth
Using SAP Analytics Cloud, Sierra Digital helped an Upstream Global Leader in Oil & Gas discover new riches buried deep in its data.
Toyota Taps Sierra Digital for IFRS16/ASC842 Compliance
One of the World's Largest Auto Manufacturers turned to Sierra Digital for its expertise in Contract & Lease Management Compliance. The Use Case proves our value.
Download Our Latest WhitePaper: This Edition on CLM
Read our White Paper to learn more about Sierra Digital's full scope of thought on Contract and Lease Administration, including our Methodology, Toolware and Accelerators.
Contact us today to learn how we can help you accelerate, automate, and integrate your technologies for optimum business advantage.